www.UltraTechnology.com
Index by Person

Jeff Fox
Charles Moore
Dr. C.H. Ting
Dr. Michael Montvelishsky
John Rible
Wil Baden -- Niel Bawd

The Star Icon is linked to the streaming video theater.
Chuck Moore (owner of Computer Cowboys, and under contract to UltraTechnology.)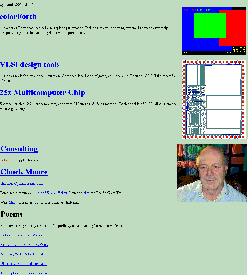 Dr. C. H. Ting (owner of Offete Enterprises, Inc. and working on some projects with UltraTechnology)

Jeff Fox (owner and operator of UltraTechnology and the F21 microprocessor.)

Streaming Video Theater:

John Rible owner of Sandpipers has been involved with Forth chips from the begining.
We have videos of some of his tutorial presentations to FIG on chip design.

Wil Baden well known Forth master and owner of Neil Bawd's Ugly Home Page.
We have videos has of some of his presentations to FIG.